Description
DJI AGRAS T30
The DJI Agras T30 crop spraying drone has the largest spray tank of all of the Agras drones, with as 30L operation tank. It also benefits from a 30kg spreading tank. This huge capacity increases operational efficiency.
The Agras T30 benefits from the latest advances in drone technology, including IP67 rated waterproofing and fully self-directed, high precision work through RTK positioning and the Zhihui agricultural cloud platform.
Monitor autonomous and manual flights with dual front and back FPV cameras, along with a spherical radar sensing system to maximise safety during complex operations.
The T30 is the successor to the T20.
The Agras T30 farming drone can also be equipped with the Agras T10 spreading system 3.0, allowing the drone to spread and spray solid matter such as seeds and mulch.
Improved Efficiency with the DJI AGRAS T30
The T30 features a payload of 30 L coupled with a spray width of over 7 m, making the operation more efficient.
Effortless and Precise
Being a comprehensive spraying system, the T30 allows users to set flight and operation parameters easily. With a built-in RTK centimeter-level positioning system and RTK dongles, centimeter-level waypoint recording is enabled, strengthening operations greatly and ensuring precision spraying.
The DJI Agras T30 is equipped with an omnidirectional digital radar, which is able to detect obstacles from all horizontal directions. It can also automatically circumvent obstacles while flying over various terrains, ensuring a high level of operational safety. With this radar, the T30 can adapt to most environments, 24/7, thanks to its strong resistance to dust and water. The T30 also comes with a real-time FPV camera and two searchlights, providing users with comprehensive live views even at night.
Live View of Farmland
Radar Imaging Technology
Water & Dust Resistant Radar Device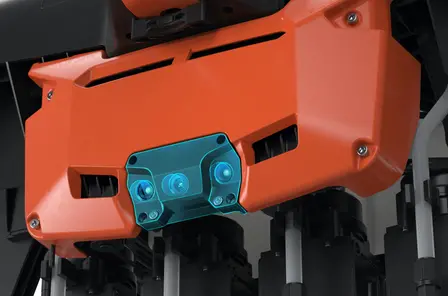 FPV Cameras
Incredibly Durable, Improved Portability
With a robust modular design, the DJI Agras T30 folds and unfolds in seconds, making it more portable than other agricultural drones. The spray tank and battery are both swappable, reducing downtime and increasing workflow significantly. All core modules are IP67 rated. They can also withstand splashes when cleaning the aircraft body, which can be done easily with water. Thanks to a 4-channel electromagnetic flow meter, 4 electromagnetic exhaust valves, and replaceable diaphragms for pumps, calibration and maintenance have become incredibly easy. Additionally, air bubbles can be discharged with a single press of a button.
All-New Agras Smart Controller
DJI has successfully elevated the performance of the T30 thanks to the new programmable Agras Smart Controller 2.0 and the DJI Agras app. The user interface runs smoothly and is incredibly intuitive. In addition, the smart controller comes with an ultra-bright 5.5-inch display, visible even under strong sunlight. It also supports external battery packs and can last twice as long as other remote controllers, perfect for lengthy or heavy workloads.